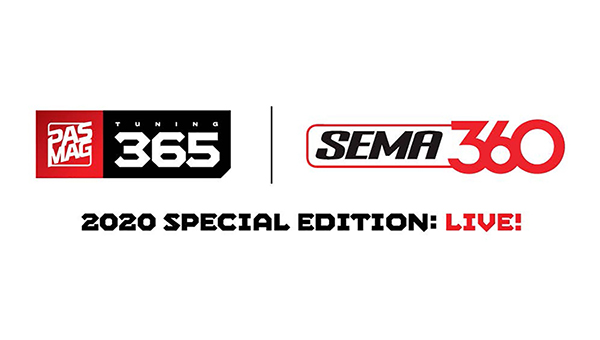 Tuning 365 Show Goes LIVE With SEMA 360 Coverage November 5th
Burlington ON, Canada (November 3rd 2020) — REV TV Canada, Canada's Own Motorsports Network, and Performance Auto & Sound Magazine (PASMAG) will be bringing viewers in Canada live coverage of the 2020 SEMA (Specialty Equipment Market Association) 360 virtual trade show on Thursday November 5th form 7pm ET to 10pm ET.
The legendary annual trade-only SEMA Show will be moving exclusively online due to the COVID-19 Pandemic but will still be the launchpad for the best new products, amazing builds and industry education and insight.
PASMAG's Tuning 365 show that airs weekly on REV TV hosted by Randi Bentia and Adam Gordon will take viewers behind the scenes and into the latest news and unveilings from the 2020 SEMA360 Virtual Trade Show.
Adam and Randi will also welcome guests on the program and take viewers social media question in real time to further enhance the viewer experience.
"The Team at PASMAG has been amazing to work with" said Mike Garrow President of REV TV Canada. "Randi and Adam bring such an authentic and informed perspective to our viewers that their coverage around SEMA is like having tour guides to take you around what is still the largest after market trade show in our industry."
"In an unprecedented year of change and upheaval, having the SEMA Show take place – virtually or otherwise – is crucial to acknowledge and celebrate all the innovation, hard work and resiliency shown by our entire industry, " said Tuning 365 Executive Producer Tim Rutledge. "I am fortunate to work with an incredibly talented and nimble team who have worked so hard to produce the Tuning 365 show in front of and behind the cameras. We are grateful for the continued support of REV TV Canada and are excited to provide real-time SEMA coverage like never before!"