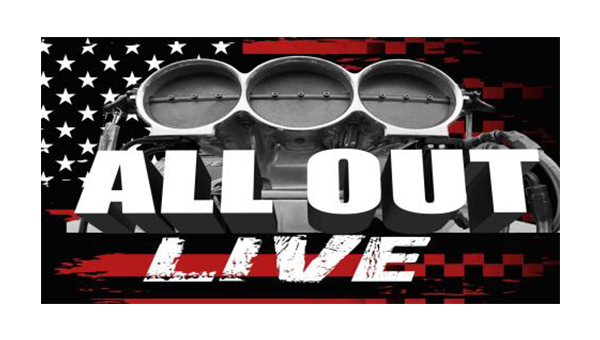 ALL OUT LIVE to Debut July 2nd on REV TV Canada
Burlington ON, Canada (June 30th, 2020) — REV TV Canada, Canada's Own Motorsports Network, is pleased to announce that it will be airing the series ALL OUT LIVE, starting Thursday July 2nd at 8:30pm ET.
This exciting unscripted series features hundreds of grassroots racers competing at various tracks across North America. Sixteen (16) finalists are chosen to compete in a "Hot Lap" competition for thousands of dollars in cash and prizes and to be crowned the ALL OUT RACING class champion.
This one-of-a-kind series not only allows racers to compete, but spectators are also part of the big show. While the racers battle it out, fans from the stands play along on "Instant Green". Choose the lane that wins and go home with cold hard cash. It's that simple!
"I've seen the show live at a track and I can assure viewers at home will enjoy playing along with the show to see if they can pick the winner," said Mike Garrow President of REV TV Canada. "We are excited to showcase ALL OUT LIVE for our fans here in Canada."
"After hosting multiple live events in Canada, I'm truly honored to work with Mike and the Rev TV Canadian crew. The Canadian fans and racers have always been supportive and some of the most highly competitive racers. Hosting and producing the new show allows me to spotlight the grassroots racers and bring them to an elevated stage they so deserve" said Brian Bossone, President of Boss One Media. "Sit back and enjoy the show Canada."