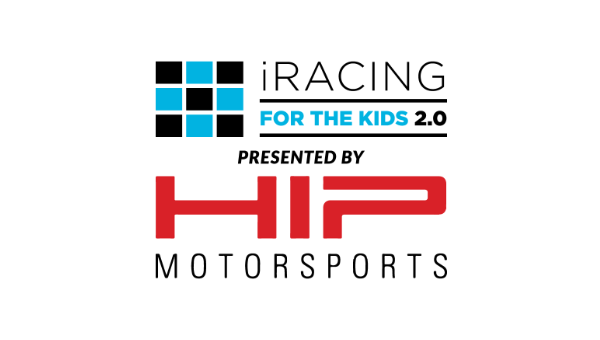 iRacing for the Kids Presented by HIP Motorsports in Support of SickKids Foundation to be Broadcast Live on REV TV!
Burlington, ON (January 6, 2023) — REV TV Canada, YOUR MOTORSPORTS & AUTOMOTIVE DESTINATION 24/7, is honoured to announce that we will be broadcasting the iRacing for the Kids presented by HIP Motorsports Pro-Am sim racing event held in support of the SickKids Foundation. 
Last year the inaugural event raised $19,500, all of which went directly to SickKids Foundation to support their most critical needs. The event features a blend of amateur and professional drivers competing in equally matched virtual machinery to achieve digitally generated glory, but also to see who can raise the most funds for the worthy cause.
Thirty-five teams will compete made up of over one hundred racers who range in age from teens to septuagenarians. The majority will be made up of two amateur drivers and one professional. The pool of professionals reads like a "who's who" of the racing world with luminaries from NASCAR, IndyCar, IMSA, Radical, and F2000. Names like 2013 Indy 500 winner Tony Kanaan, IndyCar driver Conor Daly, former IndyCar and current sports car driver Robert Wickens, Mercedes-AMG driver and ambassador Demi Chalkias, and many more. The "Mayor of Hinchtown" himself, former IndyCar driver and television personality James Hinchcliffe will be serving as the Grand Marshal for this year's event.
A unique and exciting feature of this event is that HIP Motorsports will be hosting up to eight teams at their Sim Racing Studios in Ajax, Ontario. Both pros and amateurs will race using the special and state-of-the-art HIP equipment, and, while not behind the wheel tackling the historic Watkins Glen circuit, they will enjoy the special party atmosphere that HIP provides, including food, drink, and live coverage of the race care of REV TV.
"It is a great privilege to be able to bring Canadians nationwide an exciting event for a great cause," said Mike Garrow, CEO of REV TV. "We hope that our broadcast helps iRacing for the Kids surpass last year's tally, as our viewers will be able to donate throughout the event in the name of their favourite team or driver, allowing them to participate in the action while making a difference in the lives of kids going through difficult times."
"HIP Motorsports is very proud to present this wonderful event in support of SickKids Foundation," said HIP President, Jim Anderson. "This fantastic community of sim racers and real-life race car drivers has once again come together to race for a very worthy cause. SickKids does such incredible work and has saved the lives of so many, including some of the Pro and Amateur racers who've donated their time to this event.  With the generous help of REVTV, we'll be able to reach far more viewers this year and we hope to significantly increase the contribution that 'iRacing for the Kids' 2023 can make to SickKids Foundation."
"We are incredibly excited to have iRacing for the Kids back as a SickKids Foundation Community Partner for their 2023 event," said Shannon Griffin, Associate, Community Partnerships at SickKids Foundation.
"We were blown away by the generosity of their community last year, who came together to raise over $19,500 in support of our highest priority needs. We can't wait to see how the iRacing community rallies around the event once again!
Because of the support of community campaigns like this, we are able to make important advances in child health research, purchase new life-saving medical equipment for our clinics and operating rooms, and continue to provide the best care possible to our young patients.
A huge thank you to Gary and the iRacing for the Kids team for their hard work and dedication to the cause, as well as to HIP Motorsports and REV TV for making it all possible."
REV TV will air iRacing for the Kids Presented by HIP Motorsports in Support of SickKids live on January 11th at 7PM ET.  Donations can be made leading up to and during the event here.
About SickKids
Established in 1972, SickKids Foundation raises funds on behalf of The Hospital for Sick Children (SickKids) and is the largest charitable funder of child health research, learning and care in Canada. Philanthropy is a critical source of funding for SickKids—one of the world's foremost paediatric health-care institutions. For more information, please visit www.sickkidsfoundation.com.
About HIP Motorsports
HIP Motorsports is a new 3,500 square foot Sim Racing centre in the Toronto area. HIP's unique, premium studios feature exciting motorsports-fueled fun in high-end racing simulators, plus business and classroom facilities, lounge and catering services. HIP Motorsports is the perfect setting to create a memorable experience for your next group or corporate event. HIP also sells fully supported top quality, turn-key racing simulators for your home or business and offers complete race driver training programs for both simulated and real-life racing.
HIP Motorsports ...it's How I Play.
About REV TV 
YOUR MOTORSPORTS & AUTOMOTIVE DESTINATION is available to over 6 million households across Canada and features over 200 races from around the world and right here at home. From two-wheels to four and so much more. REV TV showcases all forms of high-octane racing, such as MotoGP, Monster Jam, AMA Supercross, World Rally Championship, IMSA WeatherTech SportsCar Championship, Indy Lights, World Endurance Championship, World RX Championship, IndyCar Classics, SPEED SPORT TV, along with news coverage such as The Inside Line (F1), Winged Nation (winged sprint cars) and Tuning 365 Performance Auto & Sound Magazine. We also have a slate of original programming with REV Culture with Todd Lewis that features interviews with motorsports luminaries, All North Racing which focuses on grassroots racing, a slew of how-to and behind-the-scenes programs, and so much more. REV TV is your MOTORSPORTS & AUTOMOTIVE DESTINATION 24/7.