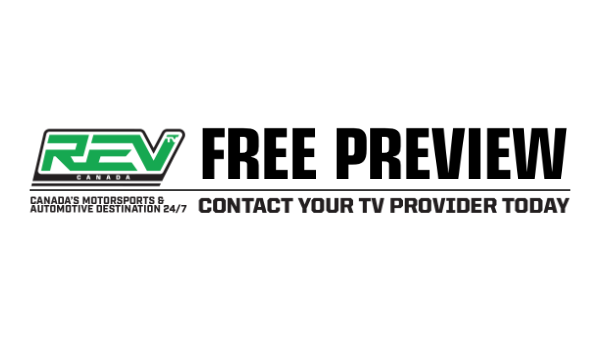 REV TV Goes Nationwide with Free Channel Preview All July!
Burlington, ON (June 29, 2022) — REV TV, YOUR MOTORSPORTS & AUTOMOTIVE DESTINATION 24/7, is going across Canada with a free channel preview for the entire month of July.
Jam-packed with programming, REV TV offers more than 15 hours of LIVE races from around the world, as well as our weekly programs featuring motorsports highlights and motoring lifestyle!
The REV TV free preview gets your summer off to a hot start with live races from IMSA WeatherTech SportsCar Championship, which is happening here in Canada at Canadian Tire Motorsports Park, Indy Lights and WorldSBK (production-based superbikes), along with event highlights from major international racing series such as Monster Jam, Super Formula, World RX, World Rally Championship, World Endurance Championship and the brand-new series Extreme E — an FIA-sanctioned international off-road racing series that uses electric SUVs to race in remote parts of the world.
"REV TV is Canada's home for motorsports and motoring lifestyle, and the best way to introduce our channel to new viewers is by letting them try it for F.R.E.E.," said Mike Garrow CEO of REV TV. "Go to revtv.ca for TV provider and channel listings information, or contact your TV Provider directly; you will not want to miss this opportunity to find your new favourite adrenalin pumping 24/7 channel and we thank you for inviting us into your homes," he added. 
Motorsports lives on REV TV, but we aren't limited to racing, as each week we offer an incredible slate of shows from all things aftermarket on PASMAG's Tuning 365 to DIY shows as on Motorhead Garage, as well as the rip-roaring world of drifting on PASMAG's Overdrive to the glamorous world of F1 with the news coverage program The Inside Line.
If it's got a motor, you'll likely find it on REV TV.
The REV TV month-long Free Preview starts with a bang on the Sunday of the Canada Day long weekend with the future stars of IndyCar, followed by the Indy Lights Championship racing LIVE at the historic Mid-Ohio Sports Car Course and the Le Mans Classic featuring the historic heroes of the Circuit La Sarthe's past peeling back the years 200mph at time. The weekend concludes with North America's premier sportscar championship, the IMSA WeatherTech Sportscar Championship tackling Canada's legendary track, Canadian Tire Motorsport Park. That's just the first weekend of our Free Preview, and just a taste of what we offer year round!
Contact your TV provider or visit revtv.ca/watch/get-revtv-channel-numbers-providers to find where REV TV is on your dial! 
About REV TV 
YOUR MOTORSPORTS & AUTOMOTIVE DESTINATION is available to over 6 million households across Canada and features over 200 races from around the world and right here at home. From two-wheels to four and so much more. REV TV showcases all forms of high-octane racing, such as MotoGP, Monster Jam, AMA Supercross, World Rally Championship, IMSA WeatherTech SportsCar Championship, Indy Lights, World Endurance Championship, World RX Championship, IndyCar Classics, SPEED SPORT TV, along with news coverage such as The Inside Line (F1), Winged Nation (winged sprint cars) and Tuning 365 Performance Auto & Sound Magazine. We also have a slate of original programming with REV Culture with Todd Lewis that features interviews with motorsports luminaries, All North Racing which focuses on grassroots racing, a slew of how-to and behind-the-scenes programs, and so much more. REV TV is your MOTORSPORTS & AUTOMOTIVE DESTINATION 24/7.