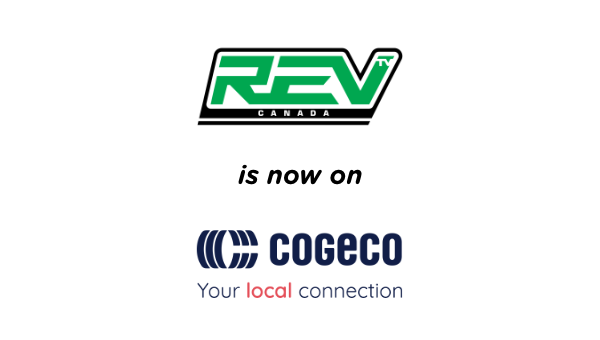 REV TV is Now on Cogeco!
Burlington, ON (October 5, 2023) — REV TV CANADA'S MOTORSPORTS & MOTORING DESTINATION 24/7 is thrilled to announce that Cogeco customers across Ontario and Quebec can now satisfy their need for speed by subscribing to REV TV.
REV TV features hundreds of live races from around the world and right here at home, along with numerous lifestyles and DIY programming. From two-wheels to four, REV TV has the international racing series you love like MotoGP, IMSA, World Rally Championship, Superstar Racing Experience, and more, plus lifestyle, DIY and news programming like the only weekly program dedicated to F1, The Inside Line. If it has a motor, it has a home on REV TV.
"We are extremely excited to introduce their customers to our brand's unique mixture of live racing and auto enthusiast programming," said Mike Garrow, CEO of REVTV. "If you've been a race fan for life you are in for a treat 24/7, or if you are looking for a new channel to entertain  you, then take a ride with REV TV and our motoring and adventure offerings from around the world."
REV TV will be on freeview for the month of October, which features live races from MotoGP, IMSA and WorldSBK along with a bevy of racing and programming from around the world  to get you a taste for what REV TV has to offer.